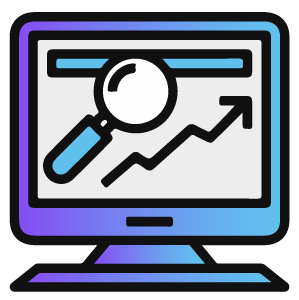 Get the best in Search Engine Optimization and Search Engine Marketing without breaking the bank.
Want more organic traffic to your website? You've come to the right place.
Why Use Search Engine Optimization
It's essential. Search Engine Optimization or SEO is a critical factor in building your brand in the digital world. With the right SEO strategy in place, you'll be sure to beat your competitors to landing new customers.
With our Search Engine Optimization plans, we create SEO optimized content for you like blogs and videos on a monthly basis. We use the latest software and techniques to track your analytics and make sure you see results with your SEO plan. And we do all of this at the most competitive rates in the industry!
A proper SEO strategy uses a variety of techniques with one goal in mind: to get your website at the top of the search engine results page (SERP). Have you noticed how when you search for a product or service on Google, you usually click on one of the first few links on Google's first page? You don't go to page 12 to find what you're looking for and neither do your potential customers. That's why it's crucial to implement a sound SEO plan.
The right SEO strategy will target keywords relevant to your products and services. When you have an SEO plan in place and when someone searches for one of these keywords, your website will appear ahead of your competitors on Google.
You need to build up your domain authority and relevance with search engine providers like Google and Bing to land on the first page of their results. A lot of factors are involved to get this right. You need to optimize your website for speed, security, and keywords. You also need to provide optimized content for your audience on a regular basis. Plus, it's crucial that you have consistent citations and strong backlinks across the web.
Why Use Search Engine Marketing
Search Engine Marketing or SEM is one of the best ways to market a small business. You maintain complete control of your budget, get quick results, and advertise directly to people looking to pay for your products and services.
With our Search Engine Marketing plans, we create Pay-Per-Click (PPC) ads for your business. We run split tests and analyze the data to ensure your ads always perform their best.
Search Engine Marketing is like SEO for those who can't wait to see their results. SEM uses paid ads to get your website or product on the top of the search engine results page, on platforms like Google, Bing, and Yahoo. Like SEO, it uses targeted keywords and copywriting tactics to increase conversion rates. Whether you are trying to sell a product or service, or maybe you want more traffic to your bricks and mortar store, SEM is a fast way to land new customers.
Tell us about your goals and get a free site audit.
Learn How Our Other Services Can Help
We use the latest digital marketing tactics with an agile philosophy to earn you more money for less. Click on each of our services below to learn more.


Get the best in Search Engine Optimization and Search Engine Marketing without breaking the bank.
Cruise control for your digital marketing? That's right! We design and manage automated lead generation funnels.
Finding the right customers is like directing a great movie. You need to tell a compelling story with all the right visuals.

Find your favourite type of customer with our organic social media strategy and paid social ads.

Send your leads the right content at the right time without lifting a finger. We create email copy with the look you desire.
Get noticed quicker with our video marketing. We create stunning videos to make your leads drool over your business.
Still not sure if SEO and SEM can improve your business?
Contact us today for your free site audit. We'll let you know how your site stacks up to the competition. There's no long-term commitment, so what are you waiting for?